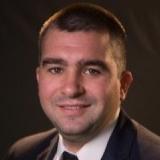 Callum MacKinnon
Mortgage Loan Officer NMLS: 55772
Want to contact or send documents to Callum?
I am committed to providing ideal financing options to homeowners and homebuyers . I have been in the mortgage business for over 17 years, gaining the knowledge and expertise to help put you at ease throughout the mortgage process.
Over those years I helped thousands of families with their home financing needs, and my vast experience in the mortgage industry allows me to better assist you and ensure a smooth process from origination through to closing. Whether refinancing, purchasing your first home, or investing in real estate, I will make certain to provide all options to help choose the best solution for your unique situation.
Clear Mortgage Capital is a wholesale mortgage broker with a highly competitive pricing structure allowing us to provide the lowest rates available anywhere in the market. Coupled with our state-of-the-art technology, we are second to none in our commitment to guiding you through the home buying or refinancing process. Clear Mortgage Capital offers a comprehensive list of loan programs including: Conventional, Jumbo, FHA, VA and USDA loans.
Learn More
Reviews
We are proud to have helped thousands of happy customers over the years.
Callum MacKinnon and his team were great to work with. He refinanced two loans concurrently for us and the process was very smooth. I will definitely reach back out to him for our financing needs in the future.
Mike Kellison
Borrower via Google
Callum MacKinnon @ Clear Mortgage Capital facilitated my loan process flawlessly. In 3-days' time the rate was locked, and both the initial disclosure documents and underwriting process was complete. His clear and prompt communication style was excellent as he provided status updates through each stage of the loan process. I had been dreading this process as it can be cumbersome, but I had no need to be concerned as Callum and Clear Mortgage exceeded my expectations. I highly recommend their services.
mocat
Borrower via Google
Callum MacKinnon made it his personal project and was professional from the start.
Ernest Loomis
Borrower via Google
How it works
We make the digital mortgage process fast and easy.
Start your application by taking five minutes to answer a few questions about you and your loan. Once we receive your application, we'll contact you for the next step to keep the ball rolling. To start the process, Apply Now.

Connect & verify documents

Once your loan application is accepted, you'll submit the documents requested by our loan officer.

Our agent will send you different loan options that best match your profile. Select one of the options and our agent will proceed with the paperwork to lock in your rate.

Loan is underwritten & funded!

We complete the underwriting process as quickly as possible, making sure you understand how it all works as we go. Once everything's ready, we promptly fund your loan.
Our lenders
We're backed by some of the top lenders in the market, allowing us to search dozens of options to find you the most competitive rate.
Get In touch
We will help guide you through the process and get you to your goal sooner.
Get In touch
We will help guide you through the process and get you to your goal sooner.
FAQS
Frequently Asked Questions
Why should I use Clear Mortgage Capital for my home loan?
Our team of loan officers is highly respected in the mortgage industry. We've helped countless individuals and families over the years with their new-mortgage and refinancing needs. Our online application process is quick and painless, and when it's combined with our lender relationships we're able to offer you the best rate available.
Do you require a minimum credit score for a loan?
We currently require a credit score of at least 500 for purchase and refinance, and 550 for a cash out refinance.
Is there a fee to apply for a home loan?
No, there's no fee to apply for a loan with Clear Mortgage Capital.
How are you able to offer such low mortgage rates?
Traditional banking institutions use traditional methods to process loan applications. Our digital mortgages are much simpler, which translates directly to cost savings for you.
Do you offer a rate match policy?
We certainly do. If you find a lower rate than we offered you, please let us know and we'll gladly match it. (Certain restrictions apply)
If you have any other questions, just call us or send a message.